JOB SEARCH
Use our online tool to find the perfect Job
JPS Selection are an international search and selection consultancy.
We service the Software and Technology sector on a global scale.
We specialise in the recruitment of senior professionals within the IT sector focusing on Sales, Professional Services, Marketing and other Executive appointments. We have years of knowledge and experience, and are true specialists within the market. Our team are knowledgeable, talented and dedicated in what they do, receiving on-going training and development reviews to ensure we are offering both our clients and candidates the best service possible.
Give Us a Call
Our staff are ready to help you
0121 651 1577
917 284 9515
Managing Director's Message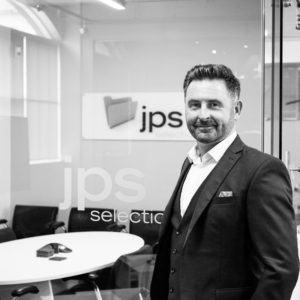 JPS Selection was formed in 2008 at the start of the recession and while many other businesses were failing (or worse still, going into administration) JPS Selection went from strength to strength enjoying triple digit growth. JPS Selection was formed with a core focus being on service levels to both clients and candidates alike. At a time when businesses couldn't afford to make mistakes, every hire was business-critical and the wrong hire could be the difference between success and failure. JPS Selection adopted a true search methodology, which would allow the client to select from a shortlist of only the very best passive talent in the market. Additionally, ensuring the role was the correct move for the candidate was paramount; into a role they could be confident of success and longevity.
This time of economic downturn led to both clients and candidates being reluctant to make hires to start to rebuild and move forward. However, with the support from the expert and knowledgeable team of JPS Selection they were able to identify talent in the market that could make an instant impact.
JPS has since evolved into a trusted partner for many global, as well as start-up businesses in the Technology sector. Working to solid moral and ethical values as well as using our proven SUCCESS methodology, JPS Selection has been instrumental in growing and rebuilding teams globally, spanning from Executive hires, through Sales, Marketing, Pre-Sales and Professional Services. Now, over 8 years on, JPS Selection have an enviable network of both clients and candidates; positioning themselves as a leader in the Technology search and selection market.
Moving forward into 2017, the industry finds itself in a very different landscape with many businesses thriving, huge investments being made by equity firms and a far more positive outlook overall. The key difference now is that it is a very candidate-short market and with that, a hugely more competitive market to secure the top talent. With the experience and tenure JPS Selection now has, we are able to effectively map out your industry, have an appreciation of the technology and evangelise your message, attracting the very best and skilled passive candidates.
John O'Neill and Paul Dakin – Managing Directors of JPS Selection